Welcome Autumn!

---
Zendaya Wiki 411----------------->
Zendaya Wiki
Welcome to the Zendaya Wiki, a collaborative encyclopedia for everything and anything related to the Shake It Up and K.C. Undercover Disney Channel starlet, Zendaya. There are articles and we are still growing since this wiki was founded. The wikia is still new, and is under serious construction, so look around and don't be afraid help out! But first, please read our Site Policy. There are currently 133 pages on this wiki. We are currently looking for admins so check in with our head admin, Seddie4eva, if you want to apply. Be sure that you have several edits before applying. Thank you!


There currently are 4,782 edits to this wiki.
Who is Zendaya?
Zendaya Maree Coleman (born September 1, 1996), better known as Zendaya, is an American actress, singer, and dancer. She currently stars on the Disney Channel sitcom Shake It Up as Raquel "Rocky" Blue. Read more....
Friends and Family
</noinclude></noinclude>
Did You Know?
....that Zendaya dropped the role of Aaliyah due to backlash from her fans?
....that she has a Disney Channel Original Movie called Zapped and a Disney show called K.C. Undercover coming out?
....that Zendaya is a vegetarian?
....that she is obsessed with chocolate and ice cream?
....that her biggest role models are Beyonce and Michael Jackson?
....that one of her fave actors is Johnny Depp?
....that she is currently 5 feet and 10 inches tall?
....that as of September 1, 2012, she was able to date because she turned 16, but chose to focus on herself instead before she finds love?
....that she was born an aunt (two of her siblings already had children when she was born)?
....that she has eight nieces and nephews?
....that she liked bringing her family members to the Shake It Up set during filming of the show?
....that she initially tried out for the role of CeCe Jones in Shake It Up?
....that Zendaya is half African-American?
....that her motto is "Don't Forget to Smile" (DFTS) and "MuchLove"?
....that she wears a size 9 in shoes?
....that she hopes to focus on her music and win a Grammy after Shake It Up ended?
....that her celebrity crush was Chris Brown and now Channing Tatum?
....that she loves to talk about random facts?
....that her favorite show is Law and Order?
....that she describes herself as a "perfectionist"?
....that she doesn't like wearing bikinis and prefers not to show too much skin when dressed?
....that she is signed to Hollywood Records?
....that she wants to do a collaboration with the rapper Drake?
....that her goal is to raise $1,000,000 for Hurricane Sandy victims?
....that her favorite Halloween candy is Snickers?
....that she was featured in a BeatsByDre commercial in late November of 2012?
....that she started recording a song with the Jonas Brothers, called Love You Forever, on November 26, 2012?
....that she recorded a new original song and then a new song for Shake It Up on December 9, 2012?
....that she was on the cover of Seventeen Magazine for their January 2012 Prom issue?
....that she made an appearance on the Today Show in New York City on December 20, 2012?
....that Whitney Boswell, one of her Zswag dancers, is actually her cousin on her mother's side?
....that her favorite book is So Be It which she read in the fifth grade?
....that in 2012, she was the #37th most searched celebrity on the Teen Vogue website?
....since her parents are teachers, she has always had the drive to get straight A's?
....her twitter username used to be @Zendaya96 but she changed it to just @Zendaya to make it simpler?
Featured Videos
Want more? Check out Z's Video Gallery! Click here...
Helping Out
To add more Did You Know, click here.
To write a new article, just enter the title in the box below.
<createbox> width=24 break=no buttonlabel=Create new article </createbox>
Z's Social Networking Sites
Z's Social Networking Sites
---
Featured Song
Too Much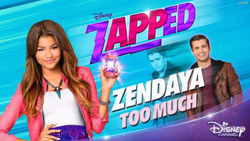 Too Much is a promotional single. It's the theme song of the Disney Channel Original Movie, Zapped. A music video consisting of just clips from the movie, was uploaded on on May 17, 2014. The full song was uploaded on ZendayaVevo on June 18, 2014. It is featured in the movie promos.
Featured Page
Aaliyah: Princess of R&B

Aaliyah: Princess of R&B is a Lifetime biopic based on the life of the late R&B singer Aaliyah. It is based on the book "Aaliyah: More Than A Woman." On June 16, 2014, it was announced that Zendaya had obtained the role of the singer, and filming would begin in Toronto, Canada a few weeks later. She is also going to record 4 of Aaliyah's tracks for the soundtrack.
Featured Pairing
Spendaya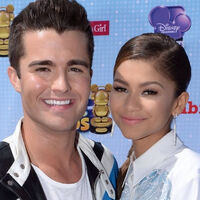 Spendaya is the ship between Zendaya and her leading man in the movie, Zapped, Spencer Boldman. The pairing has gained popularity as they hang out more and promote the movie.